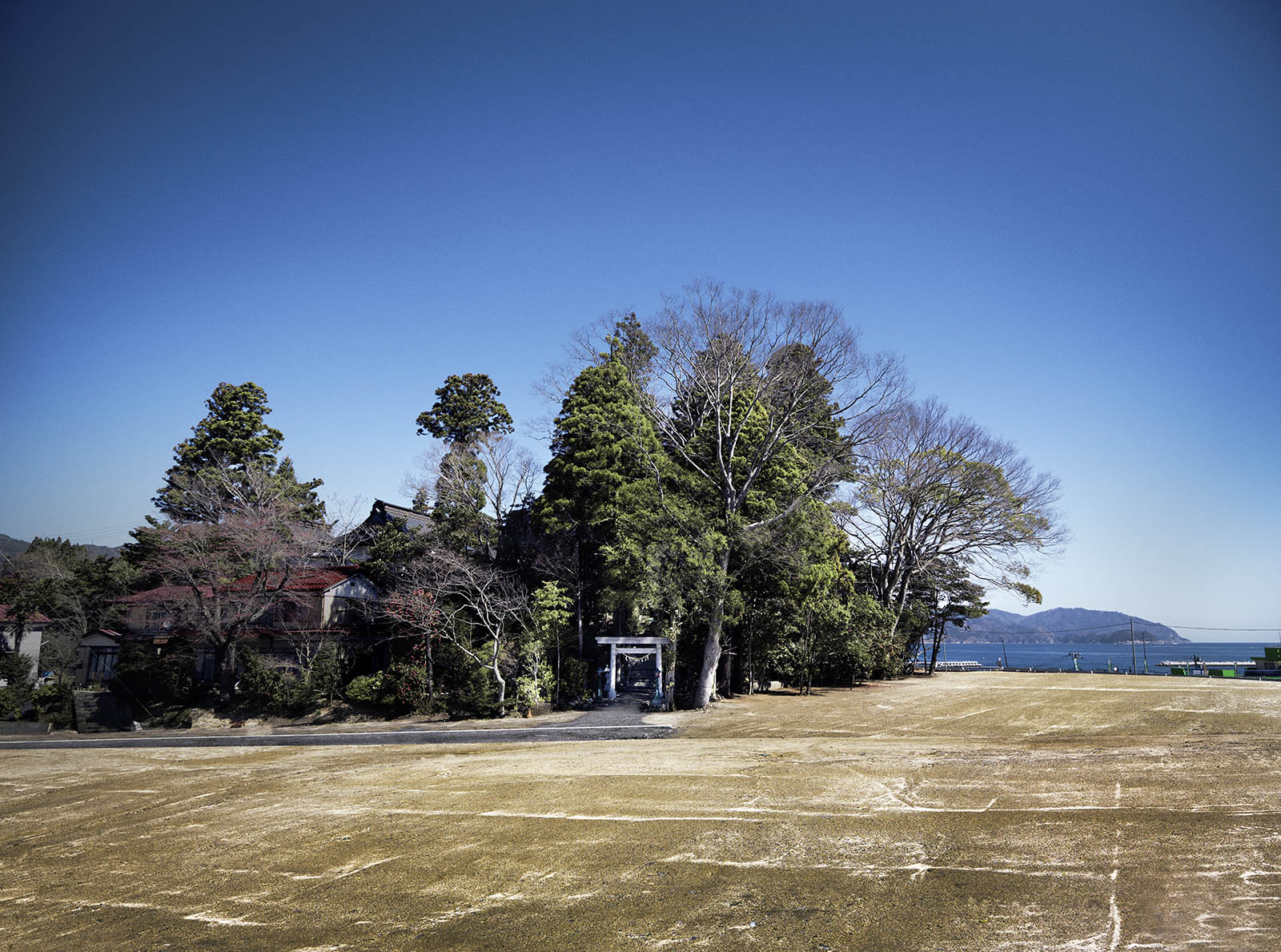 This is Amaterasu Mioya Shrine at Otsuchi Town in Iwate Prefecture after the Great East Japan Earthquake. Photo: Mitsuru Sawaki(BEAM x 10)
Project Summary
How did this Shrine survive the Tsunami attack of the Great East Japan Earthquake in 2011. 

Thanks to the woods surrounding this Shrine that functioned as disaster-preventive-forests and buffered the Tsunami attacks to a minimum. By planting evergreen broadleaf trees that are indigenous to the area, such as Castanopsis, Machilus, Quercus, and other varieties, the planted trees will strike roots deep in the ground, and in 15 to 20 years will grow into reliable forests that act as buffers against possible Tsunami attacks. It is wisdom and knowledge that we have acquired by experiencing the unprecedented earthquake disaster, which we must pass down to the next generation to protect our life. We are continuing to create such forests with the help of many volunteers. Based on what we have learned "that day", we entrust these forests with the task of defending us.
Board Member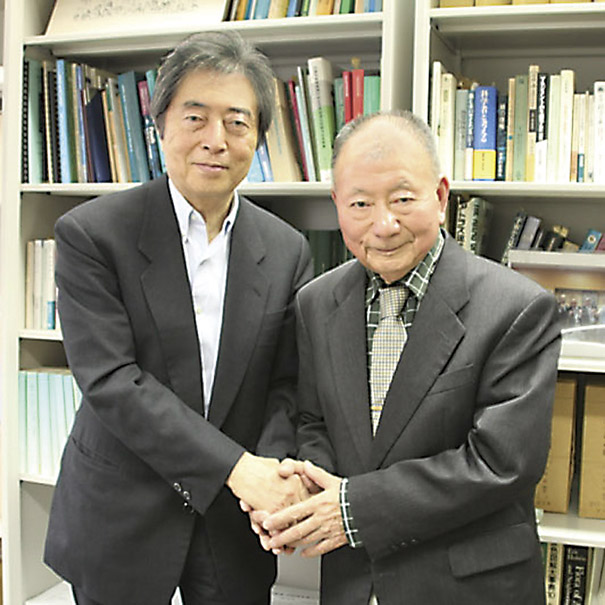 Left side
President: Morihiro Hosokawa
(Former Prime Minister of Japan)
Right side
Vice-President: Akira Miyawaki
(Professor emeritus at Yokohama National University)
Miyawaki Method
Potential Natural Vegetation (PNV)

Dr. Miyawaki has investigated both natural and already long-disturbed vegetation landscapes for over 40 years, not only in Japan but also around the world. He promotes forest regeneration using the local potential natural vegetation. Potential Natural Vegetation (PNV) is a concept used to investigate and evaluate the theoretical potential of the natural environment of an area that may have had its environmental and geographical conditions modified by human activities over time. The idea of building a forest by closely planting together different types of trees based on the PNV concept is called the Miyawaki Method. Using his method, we can create reliable forests in 15 to 20 years time.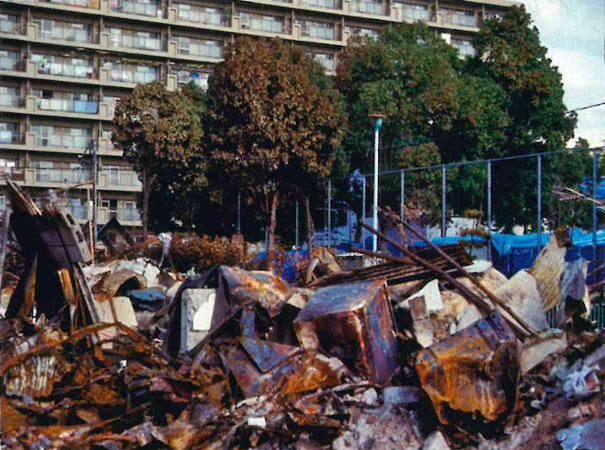 Evergreen broadleaf trees protected housing complex from massive fire caused by the Great Hanshin-Awaji Earthquake in 1995.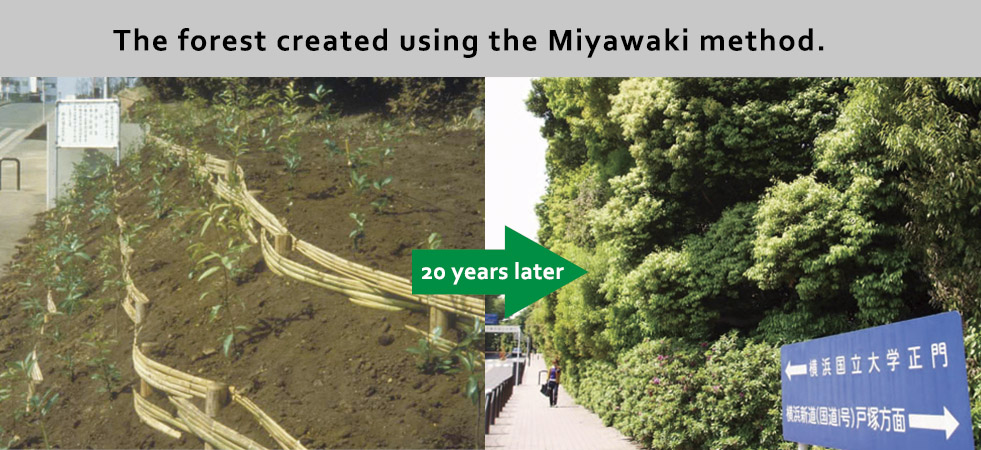 It is located in the Yokohama National University.
"SAMURAI FOREST PROJECT" Produced by:Chinju no Mori project(MORINO PROJECT)
Six Advantages of the "Disaster-Preventive-Forests"
Reducing the energy of a tsunami

The forest with a multi-layered structure acts as a wall, breaking up and therefore reducing the energy of a tsunami.

No maintenance necessary

Once the forest wall is built, the strong tide embankment is maintained via a natural cycle and no additional care is necessary.

Preventing objects from being washed away by the undertow

Deep- and axial-rooted trees that don't fall over easily catch drifting houses and cars, and prevent them from being carried away to the ocean.

Forest resistant to rain, wind and fire

With roots that grow deep in the ground, "Disaster-Preventive-Forests" are resistant to severe environmental conditions like rain and wind. The main trees, machilus thunbergii contain a lot of water and therefore help preventing the spread of fire.

Fertilizing the ocean and rivers

Minerals produced in the forest run into the ocean through rivers and groundwater, and nurture various forms of life in the rivers and ocean.

Preventing global warmings

"Disaster-Preventive-Forests" contribute to the prevention of global warming.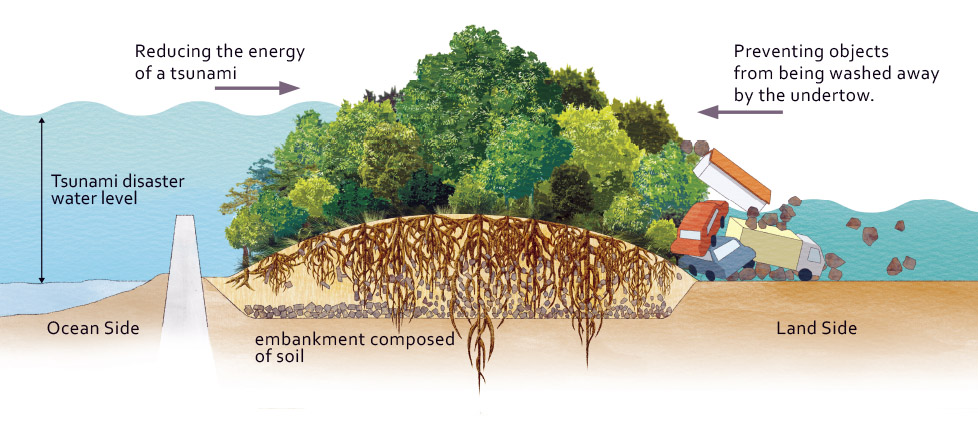 Example of a city with different types of "Disaster-Preventive-Forests"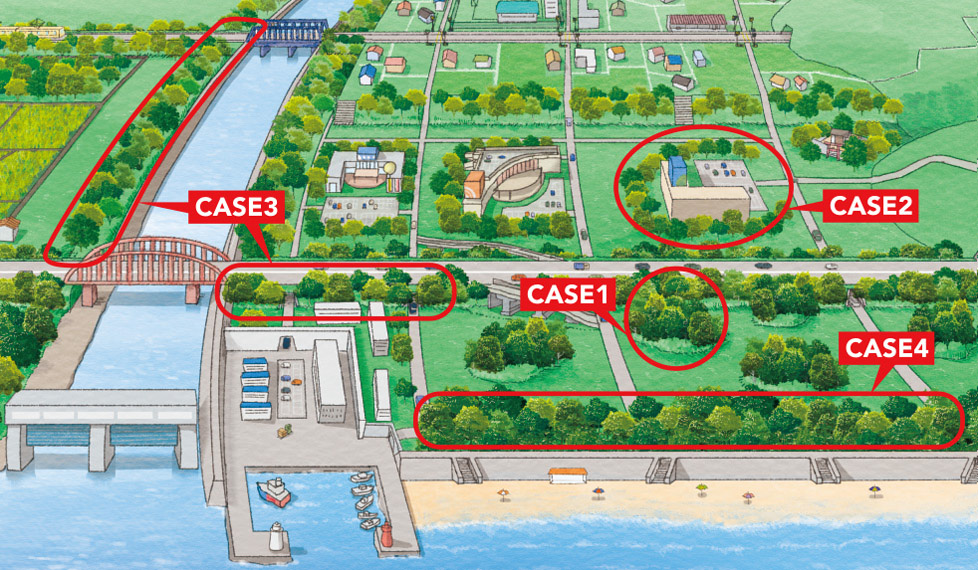 CASE1

"Mountains for evacuation" in plain areas

Build several small hills (mountains for evacuation) of around 5 meters high to reduce natural disasters. During the Great East Japan Earthquake, the scattered islands of "Matsushima" in Miyagi prefecture, belonging to the three most scenic spots in Japan, dampened the Tsunamis and reduced damages. Applied cases: The plain areas on the coast of Iwanuma city in Miyagi prefecture.

CASE2

Private woods for each building

Build embankments around buildings, plant trees such as castanopsis, machilus, and oak that are indigenous to the area, and reproduce homestead woodlands and village shrines' groves. Applied cases: The Aeon mall in Tagajo city, and the Yaegaki shrine in Yamamoto city, both in Miyagi prefecture.

CASE3

Breakwaters made of forests, by taking advantage of embankments and slopes' surfaces

Plant trees on river banks and street slopes to create green breakwaters. Also reduce damages by planting trees on residential slopes built on elevated ground. Applied cases: Sendai-Tobu road.

CASE4

Tide embankments made of forests on coastal areas

Strengthen the tide preventive functions by building concrete seawalls on the coasts, pine groves against winds and sands, and forests with broadleaf trees on the land side. Applied cases: The plain areas on the coast of Iwanuma city in Miyagi prefecture.
Donation
Online payment by credit card only.
Your donation will help us create forest. A 1,000 yen donation will buy a plant for the Morino Project.
1,000 yen is the minimum and 3 million yen is the maximum amount for a single donation by credit card.
MORINO PROJECT (Public Interest Incorporated Foundation)
Address: 2F 372 Toranomon Building 3-7-2 Toranomon Minato-ku Tokyo 105-0001 JAPAN
Tel: +81 (0)3-6432-0085
Mail: info@morinoproject.com